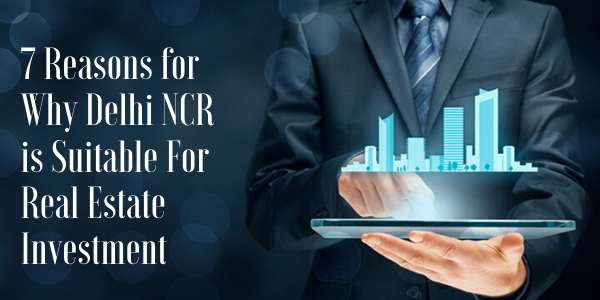 A research study in 2019 suggested that India's real estate investment garnered approximately $970 million. Moreover, the total investment in real estate for the year 2019 was $5 billion. This growth in sales and revenue generation is despite the current slowdown in the Indian real estate sector caused by the coronavirus pandemic. The research study also suggested that real estate investment in Delhi NCR has been the highest generator of revenue for investors in the year 2019, with approximately $610 million.
Further, Delhi's investment accounts for 63% of the total real estate investments in India & followed by Mumbai ($410 million) and Pune ($150 million). The increasing influx of capital has caused the real estate future in India to have a positive outlook.
To ease your decision process, these are the seven out of several reasons to sell/buy a property in Delhi NCR:
Why invest in Delhi NCR Real Estate?
Although there are tons of sources available online for research today, many investors are still confused regarding regions to invest. To ease your decision process, we have collated a list of seven reasons to sell/buy a property in Delhi NCR.
Industry-friendly Policies
Industry leaders expected the government to come up with stimulus packages for housing finance companies and incomplete constructions. The government announced a unique INR 30,000 crore package for housing finance companies to boost their liquidity and INR 10,000 crore for incomplete construction works. The Finance Minister, Nirmala Sitharaman, announced that the cabinet is working towards launching, Smart City 2.0 mission in the Union Budget 2020-21. These initiatives are going to be favourable for the realty sector and upcoming residential projects in Delhi NCR.
Growing Job Opportunities
Nowadays, there has been an increase in job opportunities in Delhi NCR and Gurugram. A large number of world-renowned companies are setting up offices in India's capital. It has led to a rise in the demand for real estate in Gurugram. The job opportunities and subsequent payments are expected to rise soon & are also likely to fuel the real estate sector in Delhi NCR and Gurugram.
Advanced Infrastructure
Infrastructure forms the vital support system of the real estate sector. The government has allocated funds for the completion of Jewar Airport in Delhi NCR. The massive project is expected to support multi-national corporations (MNCs). This will boost the economy. Projects like this are expected to propel the developmental activities in Delhi NCR further to accommodate the rising demand for commercial and residential real estate.
Potential Areas
Bhiwadi, Bahadurgadh, Raj Nagar Extension, Kundli (Sonipat), Faridabad, Sohna (South Gurugram), Dwarka, Yamuna Expressway, Greater Noida, and Noida Extension are some of the developing areas in Delhi NCR. In these areas, activities of setting up advanced infrastructure are running on all engines.
Investors in the real estate sector have a keen eye on these areas and potential investment opportunities to reap benefits within the next few years. Gurgaon or Gurugram has also contributed significantly to investors' rising interest, with an influx of luxury retail brands and swanky corporate offices. Areas such as these have increased real estate investment opportunities in Delhi NCR.
Appreciating Investment
The real estate sector in India often witnesses ups and downs. Delhi NCR is one such region in the country, wherein the real estate properties are expected to appreciate over the next few years continually. This is most likely due to the ongoing efforts to set up advanced infrastructure in the region.
The rise in demand fuels the future appreciation of real estate properties in Delhi NCR is surely going to increase the value of NCR location. A rented house usually causes money to go down the drain, whereas money spent in a self-owned house becomes an asset. Also, the value of the home you bought today will appreciate significantly over the next few years.
Highly-captivating Commercial Sector
The most alluring feature of Delhi is its captivating commercial sector. It is expected to scale new heights over the next few years. Similar to previous years, 2019, too, witnessed growth in Delhi NCR in terms of area.
The increasing demand for Grade A offices from FMCG companies, banks, and IT companies is increasing rapidly. Retail stores have also witnessed a rise in demand over the past few years. These factors have reaped enormous benefits for property owners.
High Standard of Living
People usually move for higher education and change cities for jobs and opportunities. All this is done with the ultimate aim of achieving a better standard of living. There has been increasing real estate investments in the Delhi NCR region due to the rise in the influx of Fortune 100 companies, the development of advanced residential projects in Delhi NCR, and the advent of big supermarkets and shopping malls.
Over the past decade, people's lifestyle in metro cities has changed drastically, owing to their increased income and the rise of luxury amenities.
Conclusion
Delhi NCR is poised to become the most developed city in India. It provides promising amenities to its residents as well as MNCs. There has been an increased awareness regarding the understanding of rising demands in real estate properties, which has caused an increase in real estate investments in the region.
If you are in a state of dilemma regarding what to choose between commercial or real estate, you can read our previous blog. Property owners in Delhi NCR are hence, expected to witness a significant rise in their profits from real estate investments.